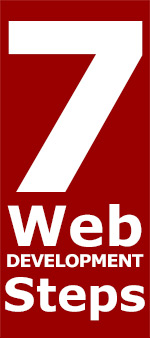 Below we have outlined the seven website development steps. Whether you need a small website or an online store with hundreds of products, the basic development schedule is the same:
Content Development
Preliminary Design
Organization
Design Revision
Implementation
Testing
Launch
The most important element of any website is the content that it contains. It is content that will drive traffic to your site, and it is content that will compel visitors to return. Most importantly, it is content that will convince or dissuade the website visitor from doing business with you.
What do we mean when we say web content?
Web content is all of the information on the site. It includes all text (data and documents), images, videos, audio, and animation. Without content there would be no reason for anyone to visit your site.
The seven website development steps
1. Content development
A new site
To begin developing content for your new website, we will meet with you to discuss your business in detail. What kind of people are likely to need your products or services? What kind of information are they looking for? What do they want to know that will convince them to do business with you?
At this point we are not trying to determine how the site will look, we are simply concerned with what topics you want to address, what questions you want to answer, and what information you want to provide. From our discussion, we will develop an outline. This outline will then be the guide for writing the copy.
There are four options for content development:
You write all copy.
You write all copy and have us edit it for you.
You hire us to write the copy.
You hire someone else to write the copy.
Do not underestimate the level of effort involved in developing content for a website. This is usually the most time-consuming phase of any web development project.
Site redesign
If you already have a website and are hiring us to rebuild and improve it, we will provide you with an electronic file (typically a Word or Pages document) of all the content currently on the site, along with a list of additional topics that we recommend addressing. You will review it for accuracy, adding and removing text as you see fit. When you're done you will return the document to us and we will use it as the basis for all the content on your revised website.
As with the above option, you can write all the copy, have us edit the copy, hire us to write the copy or hire someone else.
2. Preliminary design
If you have an established business with a branded look, we will be happy to make your site cohesive with the rest of your marketing materials. If your business is new and you do not have any design specifications for us to follow, we will work with you to understand your style and expectations.
After we have discussed what you like and don't like, what expectations you have and what features you require, we will create two home page concepts including colors, fonts, image style and layout. We will send you these as static images. You will review them and provide feedback.
3. Organization
When we have all the content in its final version, we will determine the site structure. The information hierarchy (how the navigation works) will be based on this organizational scheme and must be approved by you before detailed design can move forward.
4. Design revision
After reviewing the two preliminary designs, you will choose the one design that you like best. We will then refine the one you choose according to your feedback.
5. Implementation
Once we've received final design approval from you, we will move to implementation. This is where the approved design becomes concrete and where we add site-specific features. We will transfer all the content into the new site layout.
6. Testing
We run through a final set of tests to be sure that everything is functional. You will have an opportunity at this time to test the site as well.
7. Launch
Once we have your final approval, we will launch the site. This marks the end of the project.
We work closely with our clients on designing and building the right website for them. We get to know their business, how they work, and what things they think are important to their customers. We go into each project with the goal of developing a relationship that will last after the initial site launch. We will be available for additional projects, such as adding new content or new features, and we hope you will stay in touch and reach out with questions.
Visit our website design and development page to learn more about the services that we offer. If you'd like to talk more about how we can help you with your website, please call us at 518.392.0846 or email [email protected].