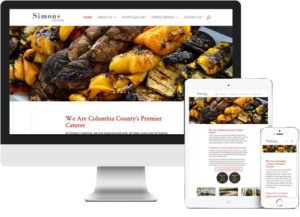 When Simons Catering first contacted us, they were looking for a reliable company to update their catering website. The site content was out of date and the layout was not mobile-friendly. We explained that it was not practical to make their existing website mobile-friendly. Having a mobile-friendly website would require building a new site, but there would be other significant benefits to a rebuild. These benefits would include, but not be limited to, improved options for search engine optimization and the ability to update the site themselves.
What goes into a catering website redesign?
We started by researching local caterers, as well as catering websites from across the country. We found a couple of websites we really liked and shared links with Simons Catering's owner to get her feedback. She loved what we loved, so we knew we were on the right track.
Next we reviewed the Simons Catering Facebook page, and found that it contained dozens of great photographs. With that we were on our way. We were able to build out the structure of the site, strategically using photos from the Facebook page.
The final website design focuses on the food. Crisp, clear, close-up photos emphasize the fresh ingredients. More distant photos show beautifully decorated rooms and well-appointed tables that speak to the care that goes into the presentation of every dish. Photos of smiling staff give the site a friendly, accessible feel.
Yet as beautiful as the website is, good photos won't help a website get found, so we made a list of important keywords. We optimized the basic content and added pages for the areas that we felt were not adequately covered. Testimonials are an important element to any good catering website so we spent extra time developing a compelling layout for that page.
Check our the new Simons Catering website for yourself at Simons-Catering.com. If you like what you see, learn more about our website design and development services. If you'd like to talk about how we can help you with a new website for your business or organization, call us at (518) 392-0846 or email [email protected].