We Design & Develop Custom Websites
Our search engine optimized and mobile friendly websites can help drive traffic and nurture loyalty. As experienced website designers and developers, we make the most of all the web has to offer.
Let's Get Started.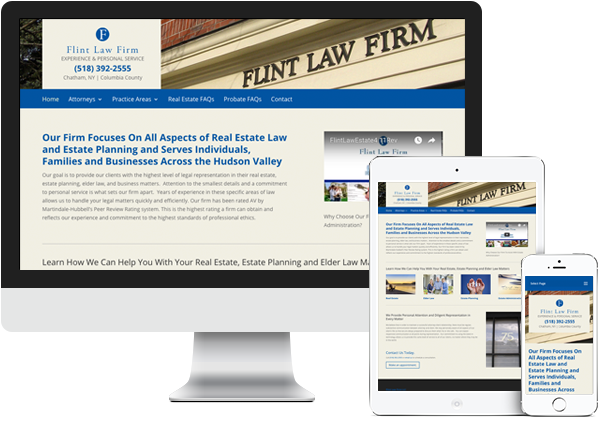 "Working with Rob and Sue was a real pleasure. They had great ideas and vision for our new website throughout the design process. I am beyond satisfied with how it turned out and compliments on it continue to roll in. I would recommend Rob and Sue to anyone looking to build a modern professional website, without reservation."
– Paul Flint, Flint Law Firm
"A big thank you to Suzanne and Robert Trevellyan! Trevellyan.biz just recently won best web site designers for Columbia County through the Chamber of Commerce and we are so happy to be lucky enough to work with them. We love our new site!"
-Tammy Crawford, Carolina House
How Can We Help You?
We can scale our website design and development services to meet your specific needs. Whether your needs are for redesign or from scratch, we pride ourselves on getting to know your business so that your website clearly reflects your vision and goals.
Tell Us About Your Project
Website Design and Development
We don't just build websites, we develop plans that are tailored to each individual client. We are experienced with both website design and development. Our websites help our customers stay connected with their customers and drive new business.
Search Engine Optimization
Safe, logical, proven search engine optimization (SEO) strategies and techniques are used to improve your search engine rankings. We provide thoughtful analysis of who your customers are, what they are looking for, and what they value.
Website Maintenance
Whether your site is built with static HTML, or using a CMS like WordPress, ExpressionEngine, Drupal or SquareSpace, we can help you get the most from your site by making the changes you need.
Email Marketing
Helping your clientele feel connected to your business is a good way to strengthen brand loyalty. Email marketing requires little money down and has low ongoing costs. You can start today.
Why Choose Trevellyan.biz to Build Your Website?
Mobile Friendly
Our sites look good and function well on all platforms because they are built from Day 1 with mobile in mind. Every site we build is mobile friendly and performs equally well regardless of the device on which it is viewed.
User Friendly
Our content management system means you can make changes to your new website quickly and easily.
E-commerce
If you're looking to sell online, you want a partner who understands merchant accounts, payment gateways, shopping carts, shipping calculations and fulfillment methods. We've built many stores and sell online ourselves.
Articles and Tips for Improving Your Website, Business, and Graphic Identity
Trevellyan.biz is a partnership. Suzanne + Robert Trevellyan. Style + logic. Creativity + reasoning. Right side + left side. She's the designer. He's the programmer. Together Trevellyan.biz offers everything advertising and I.T. in Columbia County NY and beyond. A...
read more