The Country Suites B&B
We were delighted to be selected to build the website for this newly constructed five-suite bed and breakfast in Spencertown, NY. The building was under construction when we started the project, and many decisions had yet to be made, including which reservation system to use. We worked well together and came up with a website that truly conveys the spirit and the charm of the new business.
The reservation system allows:
viewing of room availability from the website
online reservations
reservation with deposit or full amount
the innkeeper to track both on-site and on-line reservations
Special thanks to Gavin Preuss of Home and Property Photography for his work.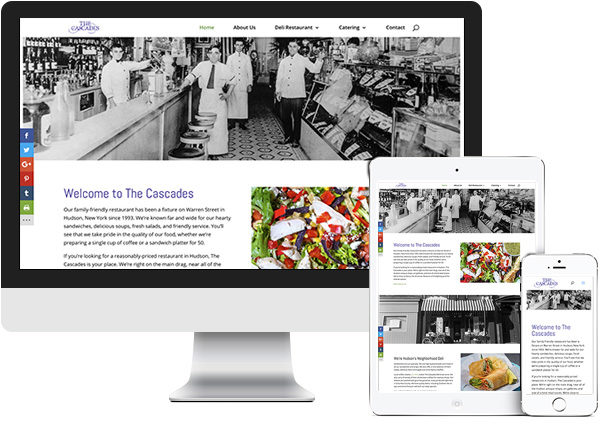 The Cascades
This popular restaurant in Hudson, NY needed a new mobile-friendly website.
The new look says "high quality, deli-style, casual, and good value."
Authentic, historical black and white photos contrast beautifully with the bright colors of the freshly-prepared food.
Menus are easy to read and update.
Catering section is easy to understand.
Call to action buttons at the bottom of each page make it easy for potential customers to get more information quickly and easily.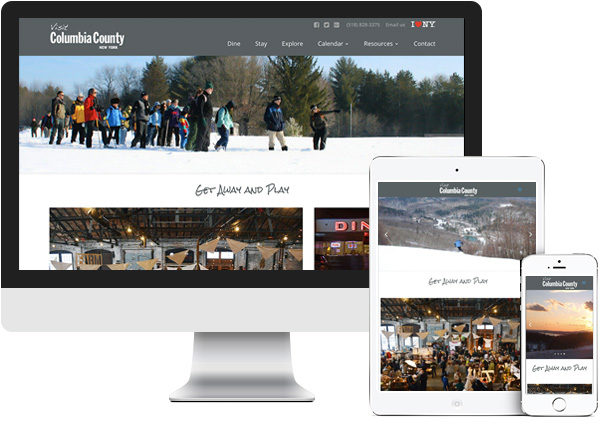 Columbia County Tourism
There were several goals for the redesign and rebuild of the Columbia County Tourism website:
make the site mobile-friendly

improve back-end usability

simplify calendar page with basic search functionality

review, revise and transfer content
add social sharing buttons
optimize site for search engines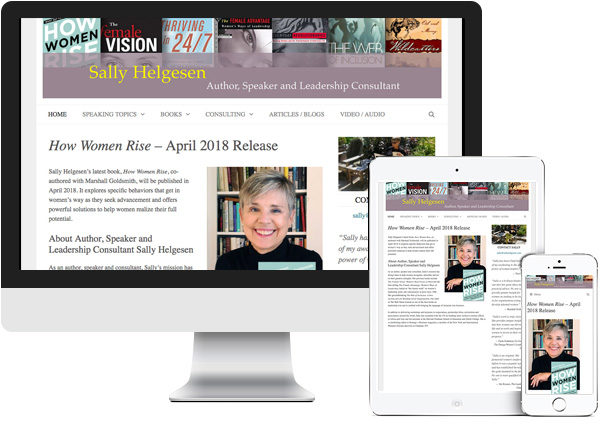 Sally Helgesen
This author, speaker, and leadership consultant had a website she loved, but it wasn't mobile-friendly. We were able to maintain the overall design and have it work well on desktop, mobile and tablet. One requirement was that the new design had to feature information about the launch of her new book, while being versatile enough to accommodate any future books. We also worked with her to optimize her text, feature new content, and reorganize the blog. The new site is fresh and light, easy to use, and update.
First Fuel and Propane
When we first started working with First Fuel and Propane, they were looking for a local developer to take their original site design and rebuild it to be mobile-friendly. As the years passed, we learned more about their business so when it was time for a redesign we were able to recommend new content, a new design, and new features.
The new website is now more cohesive with the rest of their marketing. Site visitors can find what they need quicker and easier, and search engines love it.
Love Apple Farm
Love Apple Farm needed a new website to complement its new building and expanded business. Our initial task was to redesign the layout to better reflect the beautiful new market. Our goal was to show, through pictures and words, just how family-friendly the business is, while also focusing on the fresh, high quality products.
Special features:
Events calendar
Multiple photo galleries
Blog-style exhibition page that saves previous show details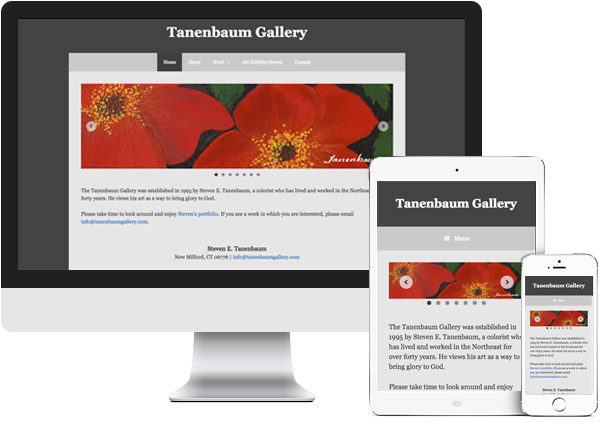 Tanenbaum Gallery
We don't often build websites for people we've never met, but that's just what happened with the Tanenbaums. They found us through a Google search and, after a couple phone calls, we were hired. Artist Steven E. Tanenbaum had a general idea how he wanted the site to look, which simplified the design phase. This being his first website, he wasn't quite ready to sell online, but he wanted the ability to do that later on. For that reason we set up the site as a store, but with the ecommerce functionality disabled.
Notable features
Mobile-friendly, responsive design
Portfolio slideshow on the homepage
Online store with ecommerce functionality disabled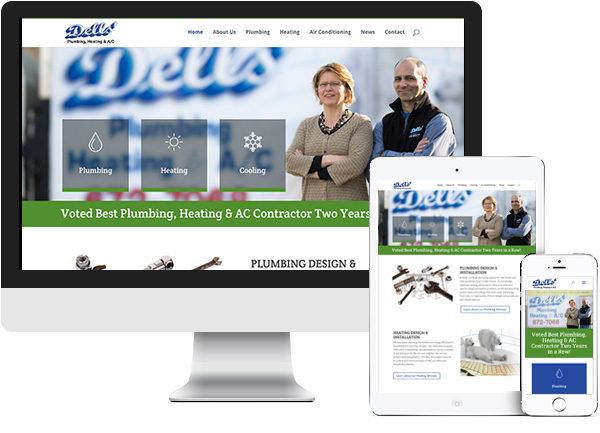 Dells' Plumbing, Heating & A/C
Dells' had a static website for years and understood the value of a strong online presence, but their site was out of date. It was neither mobile friendly nor search engine optimized.
Updating the look and expanding the content were key priorities, so we:
modified the color scheme
incorporated professional photography
added new relevant content to drive more traffic
enhanced calls to action
expanded the Contact page to encourage additional inquiries.
Special thanks to Mike Molinkski of Molinski Photography for his work.
Lea's women's clothing boutique
The wife and husband team of Lea and Robert Harvey have had a successful women's clothing boutique in Chatham, NY since 2000. A well-defined product line and exceptional customer service are key to their success and solid customer base. What they lacked was a strong online presence. With their input, we were able to create their first website which clearly reflects their personality and aesthetic and allows them to sell online.
Special features:
Online store
Blog and blog-style events calendar
Mobile friendly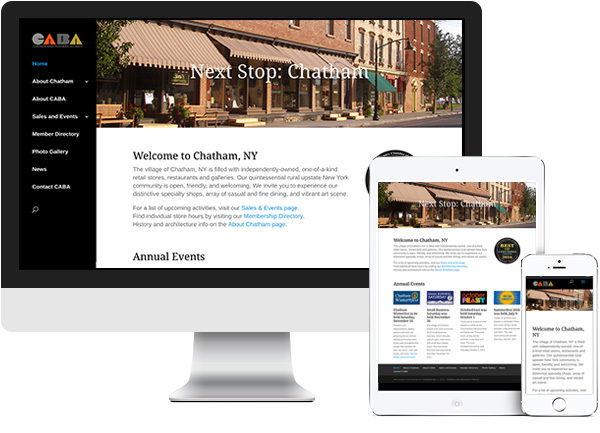 Chatham Area Business Alliance (CABA)
We built the original Chatham Business Alliance website using tables back in the early 2000s. A few years later we rebuilt it using CSS, but this is the first redesign on a new platform. Now the site is mobile-friendly, search engine optimized, and much easier to update. It gives a much better sense of what the Chatham Area Business Alliance and the area in and around Chatham are all about.
Special Features:
Membership Directory
Annual Photo Galleries
Updated Calendar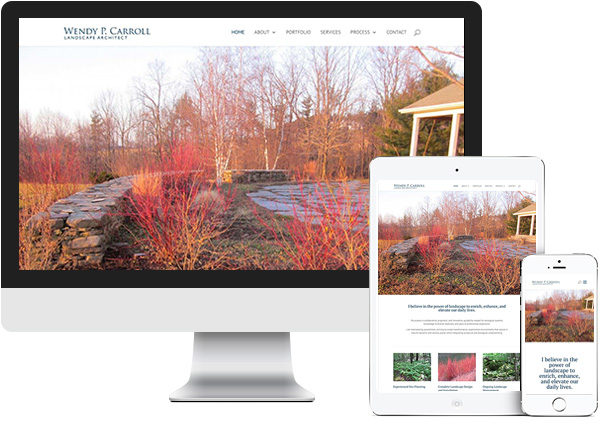 Wendy P. Carroll
This website is Wendy's entry to the online world. Her landscape work is beautiful and natural, and she wanted a very simple website that emphasized her work. Her selective use of powerful images gives an honest depiction of abilities and services. There isn't anything unnecessary or flashy about this website, it's all about the work.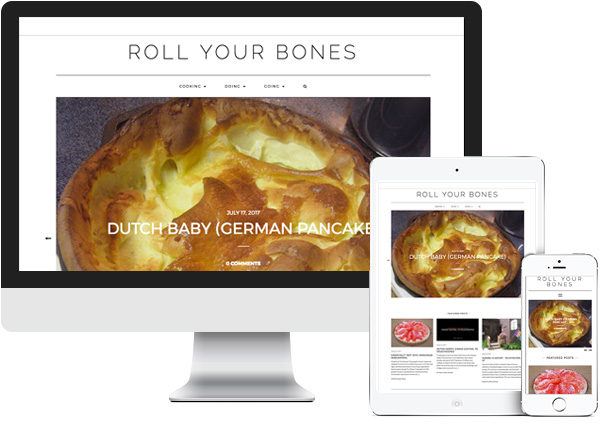 Roll Your Bones
This is our own blog and we run it just for fun. We designed it, built it, and create all the content – images and text. Having this information online means that when we visit family out of the country, we can access all our favorite recipes. It also means that we can replace the binder recipe book with a computer in the kitchen. It's easy to remember where we've been and what we want to do again.
Using a simple theme with few plugins makes it easy to change the look of the site frequently.
Flint Law Firm
Flint Law Firm's previous website was built by a big company specializing in website development for law firms. When it came time to update the look of Flint's site, add mobile-friendly technology, and improve local search, they decided to use us, a local company who could provide more personal service.
Through a series of face-to-face meetings and information gathering forms, we learned about Flint's business. It was important for Flint to rank high in local search for the services they offered, so we reviewed old content and recommended new topics. We also included several FAQs pages. Site visitors like FAQs pages because they can get answers to their questions quickly and easily, and businesses like FAQs pages because it can help customers self-qualify.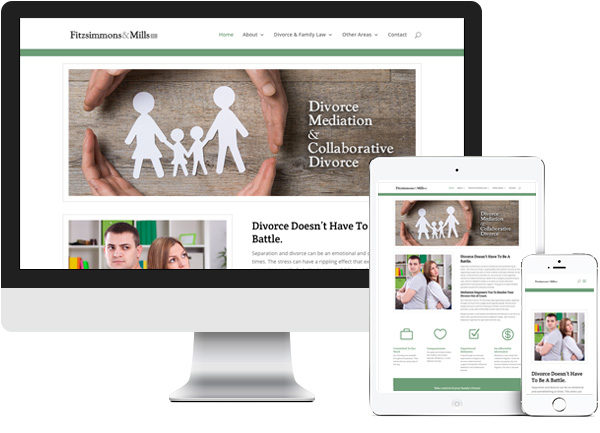 Fitzsimmons and Mills P.C.
Designing the first website for a new business is a big responsibility, because the website is likely to be the first interaction a potential client has with that new business. Even if the business owners are already well-known and well-respected in their field, as was the case with Fitzsimmons and Mills P.C., the site's first impression has to be a positive one. Additionally, few businesses are selling only one product or service, so deciding which to feature can be equally important.
Key features:
Mobile-responsive
Search engine friendly menus
Learning Outpost
Located in Newburyport, Massachusetts, Learning Outpost offers opportunities to students in grades 6-12. Their WordPress website needed an upgrade and we handled it for them. In addition to doing a theme-switch, we offered suggestions for additional content and improved organization of content to make finding information quicker and easier. Finally, we taught the owner how to update the site herself.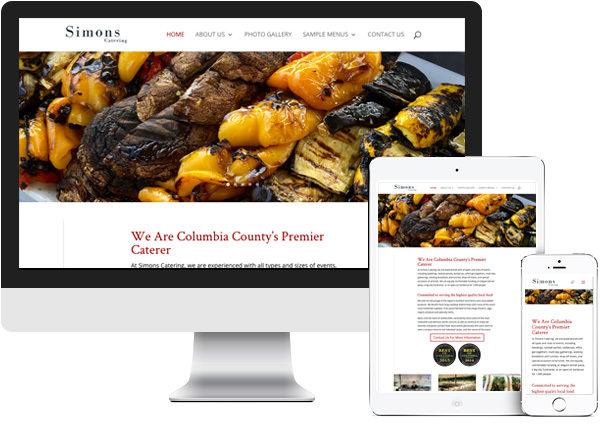 Simons Catering
Their previous website wasn't delivering the visual impact that their tastefully prepared and impeccably presented events deserved. Add the fact that the site wasn't mobile-friendly, and it was obvious that it was time for a new and improved website. Our goal was to build a new website that let the photos do the talking. Special attention was paid to providing the right text to convert prospects to customers, including a testimonials page that packs a punch.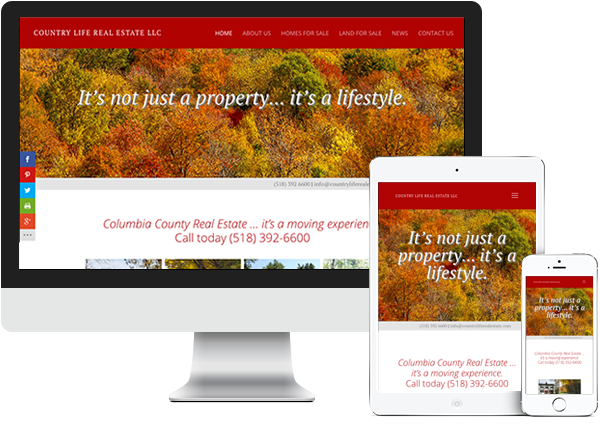 Country Life Real Estate
Country Life Real Estate built a preliminary website with SquareSpace. It looked nice, but it was difficult to update, it wasn't performing well in search and it didn't have all the features they needed. We were able to use their initial design as a guide to create this new, fully-optimized, mobile-friendly website that looks great and works intuitively.
By using WordPress, Country Life Real Estate has a flexible website that can grow with their business. We will be able to scale the site to include even more features as the needs arise.
Tamarac Self Storage. Troy, NY
We built the first website for Tamarac Self Storage in Rensselaer County when they opened in 2012. Then in 2015 we redesigned and rebuilt the site with a more contemporary look and a mobile-friendly layout. Search engine optimization for self storage is hyper-local, so we spend extra time concentrating on driving that local traffic. Over the years we have added new features such as partnering with eMove to allow customers to book their unit online and make payments through the site.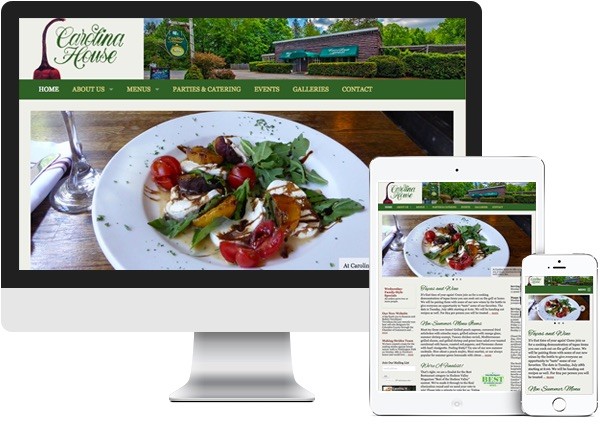 Carolina House Restaurant
The new owners of Carolina House Restaurant wanted a new website. The old one had been built by us as a static site nine years prior. It wasn't mobile-friendly and it was impossible for the owners to make changes to the site. They wanted to update their regular menus, maintain a daily specials menu, and post upcoming events. They can do all of it now! In addition, the new owners wanted a new look for their site. They provided a color scheme and font preference and left the rest to us.
Key features:
Mobile-responsive
Search engine friendly menus
CMS so site owners can make their own changes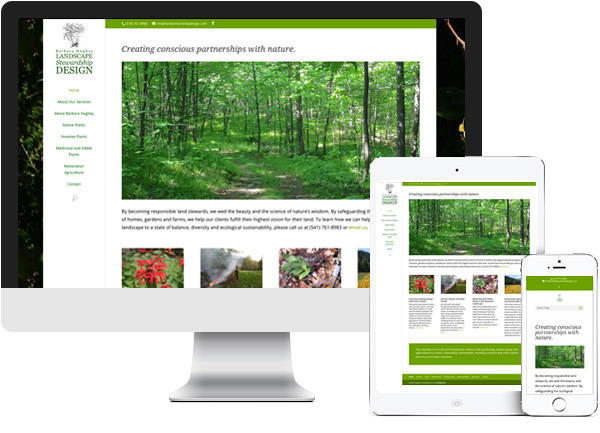 Land Stewardship Design
We were hired by Land Stewardship Designer and Project Manager Barbara Hughey to create a strong, professional online presence for her new business. Barbara was able to clearly express to us her goals for the site – from look to purpose to functionality. The site we delivered is an accurate picture of what she does. The photos she provided are exceptional and the copy clear and concise. This was a fun project from start to finish. And after completing her one-hour tutorial, Barbara is now able to make simple changes to the website on her own.
Key features:
Two different portfolio styles that suit the functionality
Mobile-friendly, responsive design
Search engine optimized
MetzWood Insurance
MetzWood's original website was built using Expression Engine. It was not mobile-friendly, nor was it Search Engine Optimized. While retaining many elements of the previous design, we rebuilt the entire site from scratch using WordPress and gave it a cleaner look and feel. The new site is fully responsive and we gave it a complete SEO overhaul.
Key features:
News page/blog
Images of local landmarks
Customized database allows for easy updates of staff and their contact details
Content Management System allows changes to be made in-house
Mobile-friendly
Minding Your Manor
When Julie Ulmer first contacted us, she was looking for someone to help her finish her website. She had made a good start, but couldn't quite get all the pieces together. In her words, "I need someone to help me take my business to the next level."
Our tasks included:
Technical analysis of the site
Develop ideas for new content
Improve formatting and design
On-site and off-site SEO
Setup up MailChimp account and integrate it with Facebook
Van Horn Design Group
The Van Horn Design Group had a specific, yet modest, request. They wanted a very simple online portfolio with multiple galleries that they could update themselves. Generating new business from the web was not a concern. The purpose of the site was solely as an online tool for illustrating their work.
The client created the overall design and we used an off-the-shelf theme from a reliable source that required minimal customization. Now the Van Horn Design Group can update the site and build the content as it suits them.
Key requirements:
portfolio featuring multiple galleries to display interior design projects
mobile-friendly, responsive layout
CMS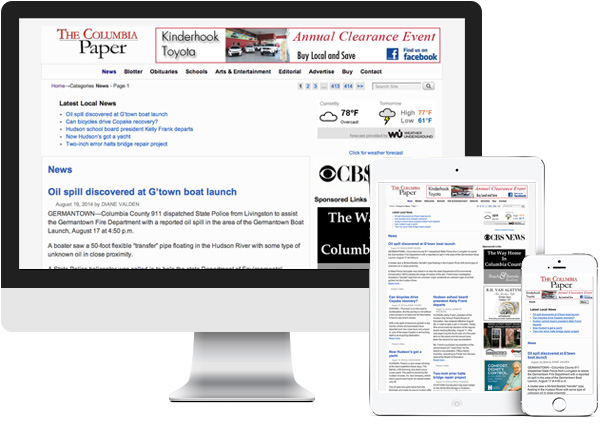 The Columbia Paper. Ghent, NY
The existing website was running an obsolete version of Joomla, which raised security concerns. The site also failed to display correctly on small screens, which was inconvenient for readers and unfair to advertisers.
To keep costs down we used an off-the-shelf theme with the absolute minimum of customization. Long term, we hope to have the opportunity to develop a custom theme that more accurately reflects the character of The Columbia Paper.
Key requirements:
migrate archive of approximately 4,000 news stories from Joomla to WordPress, retaining author attribution
mobile-friendly, responsive layout
George Lagonia Jr. Inc. Hillsdale, NY
This successful local builder wanted to improve his online presence. His original website was never really finished, it ranked poorly in Google searches and he was unable to adequately display his impressive portfolio of work. We started from scratch with a new layout, new content, new system. Now his site accurately reflects the company's work and attention to detail.
Notable features:
Photo blog where new images can be uploaded on site from a cellphone or tablet.
Photo gallery with large images and easy navigation.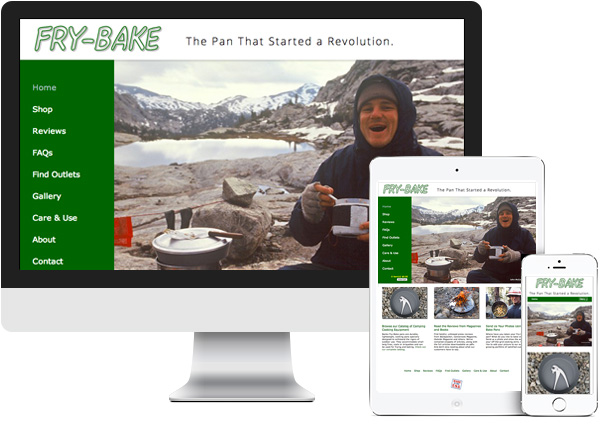 Banks Fry-Bake. Hudson, NY
Fry-Bake had a website that they built themselves with ecommerce capability, but it didn't project the professional image they wanted and it wasn't getting much traffic.
Our tasks included:
Rebuild the site in a more graphically interesting way.
Drive more traffic by improving copy.
Optimize for search engines so the site is easier to find.
Make the site responsive to improve the mobile experience.
Set up site monitoring and analytics.
Recreate the pan stamp for use as a logo.
JEM Woodworking. Hudson, NY
JEM's old website was looking tired and dated. They needed an updated look with a simpler layout using larger photos and more contemporary colors. They also wanted to increase traffic to the site, so we worked together on developing new content to drive more business. The final result is a clean, easy to navigate website that more accurately reflects their skills, goals, and philosophy.
Notable features:
Mobile friendly – mobile responsive
Multiple project galleries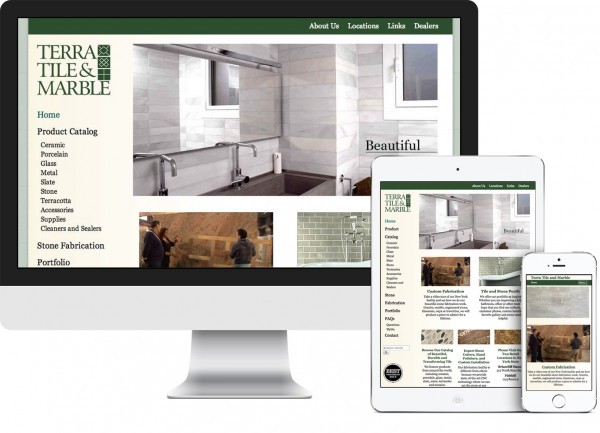 Terra Tile and Marble. Westchester
We have designed print materials for this upscale tile importer since 2004. The goal for this site: to serve the current loyal brick-and-mortar customers while generating new business through increased exposure. The online store functions as a catalog now, but can be turned on for ecommerce when they are ready.
Notable features:
Mobile-friendly responsive design
extensive product catalog
CMS
Singerman & Post. Chatham, NY
This local company had been selling their handmade jewelry wholesale and retail through two separate online companies. This required maintaining two separate databases. Singerman and Post wanted a fresh new website site with a unified system for selling to retail and wholesale customers with a single database.
Our tasks:
Identify a suitable shopping cart system, and customize it to meet their specific requirements.
Rebuild the site following their design.
Optimize for search engines.
Have the site be mobile responsive.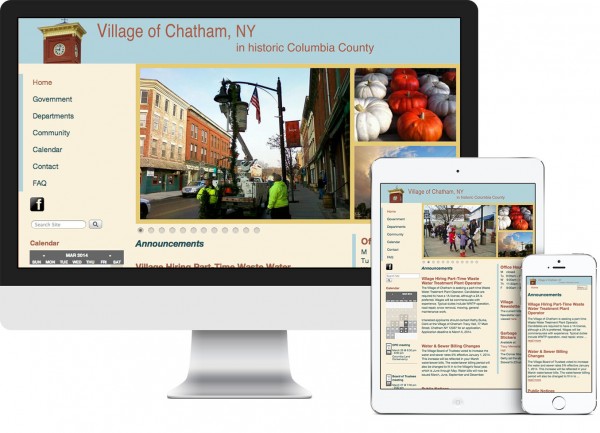 Village of Chatham. NY
Chatham needed a professionally designed website that would provide important information to local residents, while driving new business to the area. The site needed to be friendly, informative, and updatable by village staff.
Notable features
Integrated calendar of events
Multiple photo galleries
Custom contact information feature
Mobile friendly – mobile responsive
CMS
Art School of Columbia County, Ghent, NY
This website was key to kicking off the new art school. Designated school staff got one-on-one instruction and are now able to update the site themselves. This includes managing online registrations, updating course schedules, and setting class size limit.
Notable features
Course schedule with online registration and payment
Donation page
Newsletter signup
Mobile-friendly responsive design
CMS
James R. Nelson. Columbia County, NY
Artist James R. Nelson needed a website to display his artwork. Rather than selling the pieces online, he was looking to use his website as an online portfolio. With his new site and using WordPress's content management system, James can now add and remove work, as well as update his resume and biography.
Notable features
Mobile responsive – mobile friendly
Masonry layout for portfolio
CMS
The Chatham Bookstore. Chatham, NY
This local bookstore was seeking a new website that focused more attention on events, gave a stronger voice to staff, and promoted the new art supplies department. Most important: they needed to be able to make changes to the site themselves.
Notable features:
Prominent email signup link
On-site display of current newsletter
Mobile friendly – Mobile responsive
CMS
Shed Man. New Lebanon, NY
Shed Man had trouble finding a company that could offer them a strong design, good SEO and a content management system that would allow them to manage the site and the store in-house. Now their staff can take photos of products or completed jobs and upload them directly, and manage their large catalog of in-stock items.
Notable features:
Mobile-friendly
extensive product catalog
Email signup
CMS
Holmquest Farms. Hudson, NY
When Holmquest Farms dramatically expanded their facility in 2003, they hired us to design a logo and build a new website. Our goal was to bring the excitement of seasonal harvests to the page by using closeup images of fresh food and plants with spectacularly bright colors.
Notable features:
live Facebook feed
email signup
mobile responsive
Twin Maple Farm. Ghent, NY
After an unsatisfactory attempt at building a website themselves, we were hired to create a clean, simple site that would allow multiple contributors to update information easily. This site was built with the understanding that as the business grows, the site will grow. They will be able to increase the number of products offered and they have the ability to sell online when they're ready.
Notable features:
Mobile friendly –  mobile responsive
Hillsdale Country Realty. Hillsdale, NY
This Columbia County/Berkshire County Realtor needed to improve her online presence. Her old site looked dated, was not mobile-friendly and having changes made could prove difficult.
Notable features:
gallery of homes on the index page
separate but similar land and rentals pages
embedded MLS
mobile friendly – mobile responsive
Saranac Modular Homes. East Greenbush, NY
Saranac Modular Homes needed a new site with a professional look and good content that would draw traffic. Portfolio pages are some of the most visited pages on any website and we carefully selected the best pictures to illustrate their work. The testimonials do a great job of highlighting their competitive advantages. FAQs are a solid list of the questions that can help qualify leads.
Notable features:
three separate portfolios
custom logo design
Mobile-friendly responsive design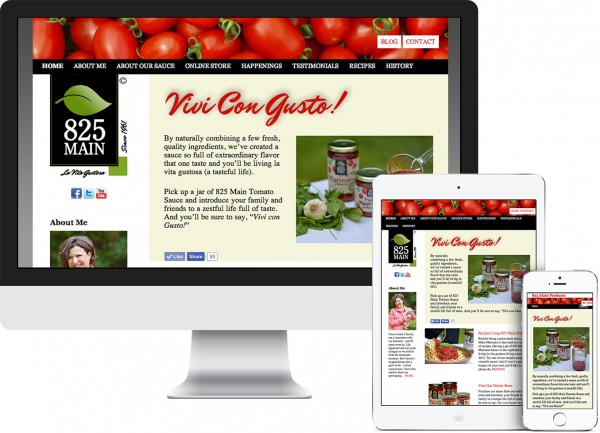 825 Main Products. Poughkeepsie, NY
We have been fortunate enough to have been working with 825 Main Products since they owned Coppola's Restaurant in Poughkeepsie, NY. In  2011 the restaurant closed to focus on selling their pasta sauces. Our involvement has included logo design, sauce label designs, Facebook setup, and website design and development.
Notable features:
Mobile friendly – mobile responsive
eCommerce (PayPal buttons)
blog
D&J Chainsaw and Small Engine Repair. Spencertown, NY
It can be difficult for a small shop in an "off the main drag" location to get found without a big ad budget. D&J's deep product line for specialty industries made the web the perfect venue to get the word out. Don, the "D" in D&J, is able to make simple changes to the site including adding seasonal photos, updating store hours, and adding and removing brands and products carried. A product spotlight/coupon area was included on the homepage that he has found especially useful.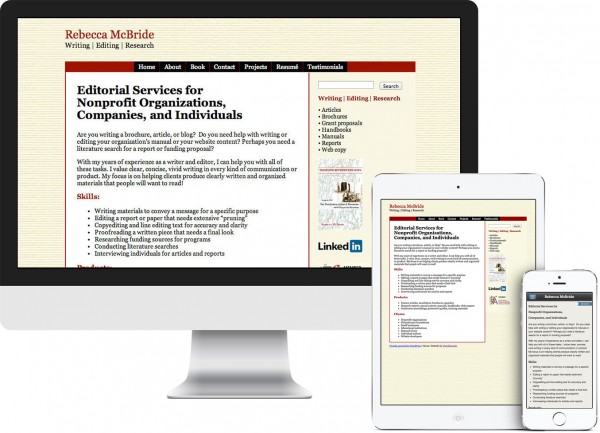 Rebecca McBride. Old Chatham, NY
While Rebecca's old website was useful for the content it contained, she felt that it didn't reflect her style. We worked closely with her to create an overall design that was classic and distinctive and revised the layout of her resumé and samples pages to be easier to navigate and read. While the new website was part of the marketing campaign for her book, it was also expected to act as a brochure for her work as writer, editor and researcher.
Steve Berner Voiceovers
Steve Berner had been doing voice work throughout his career, but when he decided to go freelance he needed to rebrand himself. A website would be his calling card and his portfolio. It need to be clean, professional, and, above all, easy to navigate. Over the years we have added new pages, updated audio and most recently added a video demo.
Shops @ 2 Park Row. Chatham, NY
When Kaarin Lemstrom-Sheedy opened Pookstyle within Park Row Art Gallery, her husband owned Berkshire Books. All three stores were located on the first two floors of the distinctive red brick building at 2 Park Row. This group of independent stores: modern gift shop, art gallery/custom framer, and book shop decided to promote the three businesses under the moniker Shops @ 2 Park Row. Rather than build one site to promote the three business, they kept their three separate and existing sites and had us build a single landing page from which each store would have a prominent link.
Berkshire Books. Chatham, NY
This seller of used, rare and out-of-print books wanted a single page site to promote his online store (through abebooks.com) and his brick-and-mortar store. The page needed to include contact information, store hours, a short list of the store's focus, and a brief biography of the owner. Finally, a link to the online store had to be prominent.
Rewraps. Chatham, NY
We have handled publicity for PS21 since its inception 2006, so when Rewraps needed a small website that they could update themselves with new information – such as store hours and current sales – we immediately suggested using WordPress. The owner had a personal affinity for the design of the website davidlebovitz.com and we were asked to somewhat mimic that style. (While we don't handle the photography for all our projects, we did take the photo for the banner on this webesite.)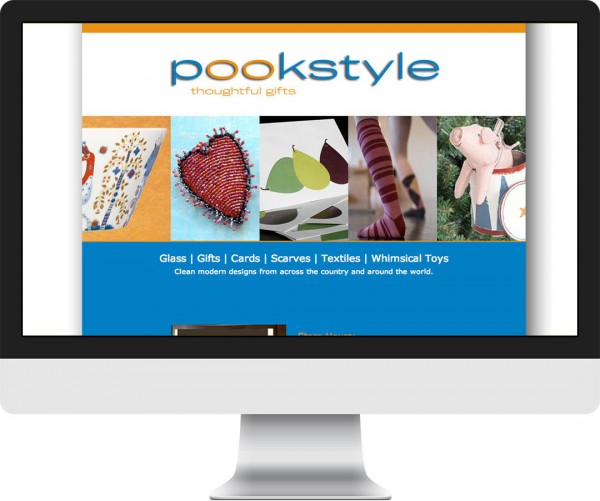 pookstyle. Chatham, NY
Modernity is this store's most distinctive design element–from clean lines and warm colors to the quality and variety of specialized products offered. To reflect this modern aesthitic, we used specific colors, modern fonts, and an open layout for this single page website. One woman owns and operates this business, so we were tasked with creating a stunning design that would, at all times, be seasonally appropriate.
Valentine & Curio. Chatham, NY
We have been working with Valentine & Curio since they started their business in 2010. We helped design their logo, postcards, place cards and several other printed pieces, but the website was the big project. At the time this site was built, CMS such as WordPress were not as developed or robust so this site was created with a combination of html tables and a MySQL database, allowing the site owner to update much of the content.
Notable features
Online registration form
Downloadable brochure
MySQL database backend
Bespoke Decor. Chatham, NY
This interior-design client had a clear idea of how she wanted her site to look, feel and function. After working unsuccessfully with a number of other web developers who attempted to replicate her design, she came to us. We understood just what she wanted and we were able to build the site as she had envisioned it.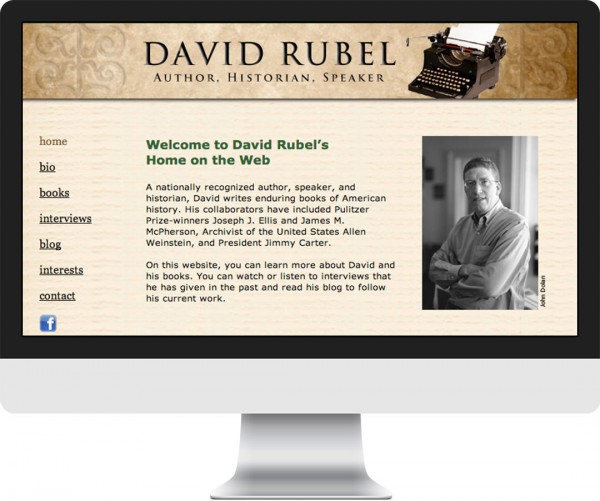 David Rubel. Chatham, NY
There were three main goals set for the design of this author's website: build and maintain a fan base, interact with readers, and promote the latest book. His numerous video, audio and text interviews were organized and made availablle for download, and his catalog of about 18 books for children and adults was formatted in a way that is easy to browse.
Columbia County Online Planning Guide. Hudson, NY
Working with the Columbia County Chamber of Commerce and Columbia County Economic Development, we built this website with the goal of assisting applicants in navigating the site planning process in Columbia County, New York. The MySQL database allows a county staffer to update the database of forms, applications, and planning and zoning officials. As part of the project, we visited and photographed every town hall in the county. The site was announced and launched as part of a press conference in 2010.
Notable features:
Rotating featured business on the homepage
Advertising integrated into some pages
MySQL database
Erin Robertson Design. Columbia County, NY
We were hired in 2009 to design business cards and build a new website. The project required that she be able to maintain the site herself, but at that time we were not yet building sites with an intergrated content management system. We tried SquareSpace. While we no longer use SquareSpace as our go-to software, at that time and in this case it has proved a useful option. The software allows the client to make substantial design changes within a defined structure, so while the site today looks nothing like it did when we first launched it, it is still attractive and easy to navigate.
R.H. Van Alstyne Fine Jewelry. Chatham, NY
In 2007 this client had a particular layout in mind and it was our job to reproduce it as faithfully as possible. We shot the exterior images.
Blue Plate Restaurant. Chatham, NY
Built in 2006, this simple site provides all the important information: restaurant hours, calendar of events, downloadable menus, and contact information. (We shot all the photographs used on the site, with the exception of those in the galleries.)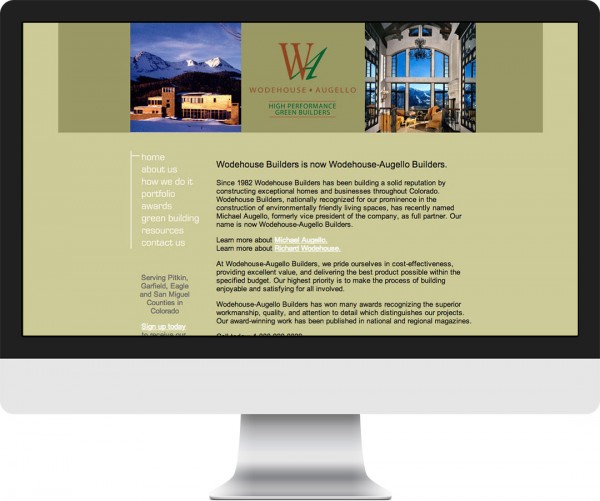 Creative Building Systems. Basalt, CO
This website was originally built for Colorado green builders Wodehouse-Augello Builders. While the company no longer trades under this name, the "Augello" in Wodehouse-Augello continues to use this site as his online business card/brochure for his new company Creative Building Systems.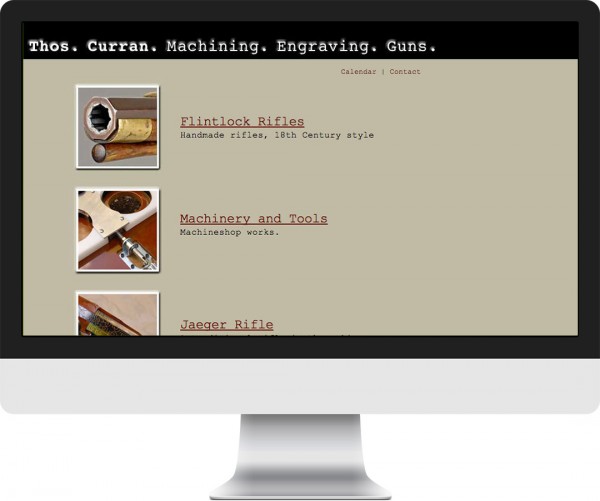 Monster Machine. Chatham, NY
On his own Tom Curran created four blogs using the hosted wordpress.com service. He hired us to design a landing page that would act as an index.
Inn at Twaalfskill. Highland, NY
We are frequently approached by those who were told that building a website was easy, but feel differently after trying it. This was true with the Inn at Twaalfskill. While their attempt was admirable, they simply weren't able to achieve a look that complimented their luxurious inn.
Our goal was to bring the experience of being at the inn to the web. In addition to designing a layout that truly reflected the aesthetics and sensibilities of the house, the property and the owners, we assisted with writing copy and photographing the rooms and landscape.
Chatham Keep Farming. Chatham, NY
When Chatham Keep Farming was first getting off the ground in 2005, we volunteered to build this website for them. As the organization continues to work to maintain Chatham's agricultural community, the site is used to announce report findings, organizational achievements and events. This site was built with tables and does not have a content management system, so we continue to maintain the site for them.
Sara McWilliams. East Chatham, NY
While this site was built in 2005, its exceptionally clean and simple design still looks fresh. (Sara's one requirement from the onset: no clipart!) Even though the site is built with tables, they are not fixed width so the site is relatively mobile-friendly. Sara's commitment to regularly updating the copy is the key to keeping her website profitable.
Notable features:
no clipart
exceptionally simple design
Carwile Biebel Consulting. Columbia County, NY
Working to create a branded look for this business, we developed a new logo with corresponding business cards, letterhead and envelopes. The design of the web portion of the project is based on the branding elements we developed.