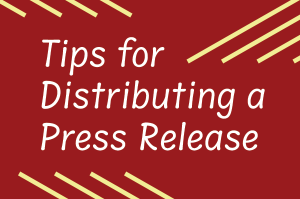 You're written your press release and now you want to distribute it. (If you haven't read our article How To Write A Press Release, you may want to review that first.) Below you'll find our tips for distributing a press release.
Building A Distribution List
Build your press release list digitally, in a spreadsheet or as part of a database. This will ensure that you compile all the information you need and it will make it easier to update the list in the future.
STARTING THE LIST
The Simplest Option
Starting a media list is the first step in distributing a press release. Begin by making a list of the publications in your area that you are familiar with. Then ask around, and add those to your list. Don't forget to include bloggers and regional influencers.
For a More Comprehensive List
Start with "The Simplest Option" above.
Then Google "media near me" or "[your county] newspaper" or "[nearest big city] media." For example, "Ulster County Newspaper" or "Albany Media." Add to your list every outlet that appears in the search results. Don't worry about the quality or relevance of the publication at this point.
Be on the lookout for free print publications at the supermarket, at the local music venue, at the library. You'll be surprised how many there are. Add each publication to your list. You'll find that many of the smaller publications will be glad for the free content, so don't count them out.
NOW THAT YOU HAVE A LIST, IT'S TIME TO BUILD IT OUT
Once you have the list of media outlets compiled, visit the website of each. Find out exactly what the company does. Is it a newspaper, radio station, blog? Maybe it's an ad agency or a web developer. Remove the outlets that aren't a good fit for your content and that don't target your audience. For those that are a good fit, note all the relevant contact information that you'll need later.
Find the page on the website that describes how and to whom to send the release. If you can find a specific journalist to send the release to, that can be better than sending it to a general email. If you send the press release to the right person, in the form they request, you are much more likely to have it printed than if you send it to the wrong person or in a format they cannot use. 
Be selective. Don't send press releases to places where it just doesn't make sense.
Keep a running list of what they recommend: where to send it, how to send it, what format the content should be in, and publication date.
For each publication on your list, include name of publication, contact name, phone number, email address and anything else that will be relevant when it comes time to send. Do they want it to be a Word doc, a PDF, RTF?
If there is information that you need but can't find online, follow up with a phone cal. Introduce yourself and request any missing information. When it comes time to distribute the press release, you'l be in good shape.
Distributing the Press Release
Follow the steps above and you will have a solid, relevant, valuable press list. Update it frequently, don't let it become out of date. This will improve the odds that your release gets printed and your website traffic will grow.
If you'd like help building your own list, give us a call (518) 392-0846 or email [email protected]. And if you're in the Hudson Valley and need someone to write and distribute press releases for your organization, we can help.