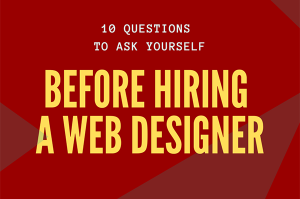 When it comes time for you to choose someone to build, manage and maintain your website, your best bet is to interview a variety of designers and developers. You already know that hiring the right people is key to being successful. It is equally important when it comes to your website.
Unfortunately, many people are reluctant to interview web developers. Some are embarrassed that they are not more knowledgable, while others simply don't know how to evaluate one option against another. The truth is, we buy things we don't know much about about all the time. We buy cars without knowing how an engine works. We buy houses but know nothing about construction. We purchase appliances and other electronic gadgets, yet may not be able to differentiate a chip from a capacitor.
Rather than focusing on what you don't know, think about what you do know. You know your own business better than anyone and that knowledge is valuable. As the business owner you should be able to focus on your business and imagine how a website could build loyalty and drive new traffic.
Think carefully about what you want your site to do. Write down specifics. Make a list of ideas for specific pages or areas of content. Set goals. When you have a clear idea of the basics of what you need, you will be better able to decide which agency is the best fit.
Questions to ask yourself before choosing a web developer
1. What is the purpose of the website?
Be precise about what you want to achieve. Are you looking to build your brand, sell a product, gather information, something else?
2. Who is your audience/target market?
The better you understand who your audience is, the more likely you are to create a site that they will find useful and inviting. Not sure what a target market is. Here's a good article on Inc.com that explains How to Define Your Target Market.
3. What will your potential clients want to find on your website?
What information can you provide that will help you convince them that they should be your customer? Consider what they might expect or want to find when they visit your site.
4. What is your overall advertising and marketing plan?
Few businesses can advertise in just one medium and still be successful. Even a professionally designed and developed website needs to be promoted elsewhere. Anything your organization does to promote itself should include a reference to the website. This includes basic materials such as letterhead, business cards, press releases, and banners. It's useful for the developer to know how you plan to promote your website.
5. Do you need e-commerce?
Do you have merchandise you want to sell online? If so, what payment methods will you accept? If building paid membership is a goal of the site, will you want people to be able to pay online or update their own profile? If you offer subscriptions, would you like them to auto renew?
6. What type of security is required for the site?
Do you need a members-only area? Are you a physician who needs to be mindful of HIPAA compliance, or an attorney with other legal restrictions?
7. Who are your competitors?
A new website can give your business a leg up on your competitors. See what they're doing online. What do you like and dislike about their website? How can your site be even better?
8. What materials might the designer find useful?
Do you have a logo, color scheme, or overall look for the organization already? You will want to reference this for consistency.
9. What websites do you admire?
Look at other sites and find ones you like. The more the designer understands what you like and what you want, the greater the chance that you'll get a website you love.
10. What is your budget?
The nearly universal answer to the question, "What is your budget," is "I don't know." Don't let this be you. When meeting with your potential developer, have an idea of what you can afford, even if it's just a ballpark figure. Consider cost of initial design, development and on-going maintenance.
Choosing the right web developer for your business or organization is an important decision. The developer you choose will decide the platform on which the site is built, they will create the design, and they should be willing and able to take responsibility for the security and safety of your website during its lifetime.
Final thoughts before hiring a web designer
A website is not a one-shot, one-and-done endeavor. To be truly effective, your website will need to grow and pivot with your business. Your developer should be there to help you understand your options to achieve your goals.
Developers work with clients who are new to the development experience all the time. Don't be embarrassed. It's our job to be able to explain how we can help you and what we bring to the table. By interviewing several web developers, you will begin to see how different they can be. Your developer should be patient in answering your questions. If they aren't cooperative in the interview process, working with them may be equally difficult.
We hope you have found these questions thoughtful and worthwhile. By taking time before hiring a web designer, you'll be in a better position to choose the right partner for this project. To learn more about how we can help you with your website, visit our website design and development services page, email us at [email protected] or call (518) 392-0846.