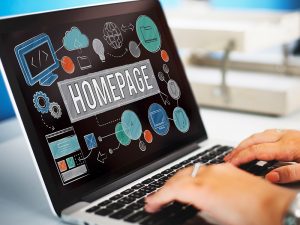 The first time I visited a website that was missing the customary HOME in the main navigation menu bar, I thought, "Oops, someone must've forgotten the home page link." However, it became apparent pretty quickly that this was a bit of a trend. Let's take a few minutes and breakdown whether it's a trend worth following.
What is a main navigation menu and what is its purpose?
The main navigation menu is a list of links prominently displayed at the top of every page of a website. Typically the links are listed horizontally above, below or to the right of the company logo or vertically, directly below the logo. (See our related article: Pros and Cons of Horizontal and Vertical Primary Navigation Menu Bars.)
As an illustration, here's what the main menu of our website looks like:
You can see that there are six main links. The links are all two words or less. The active page link is yellow and the other links are white.
Regardless of which page a user lands on, the main navigation is one of the first things they will see. These links specify the main areas of content and communicate what it is that we do.
Your navigation links will address your core features and services. By simply reviewing the main navigation links, users and search engines alike get an idea what your company is about and what kind of information is present on your site.
In addition to providing clues to the content of the site, these menus also help users navigate between pages and sections. Like the index of a reference book, users can scan the navigation bar to determine how to find the information they are looking for. A well-organized navigation structure makes accessing information simple, quick and easy.
While it may seem boring in its ubiquitous design, most site visitors are not interested in spending any time figuring out how the navigation works. Therefore it is important to follow a standard navigation structure. Visitors simply want to find the information they are looking for, without any hassle.
Additionally, navigation bars provide a sense of orientation. Most people who find your website by using keywords in a search engine are likely to land on an interior page rather than the homepage. Regardless of the page the user lands on, they can access the main menu navigation to guide them to other information of interest.
So, is removing the home link from the navigation bar a good idea?
By understanding the menu's purpose, we can evaluate whether or not removing the home link is justified or recommended. Let's review what makes a good navigation menu.
Simple, brief and consistent navigation links are best
SIMPLE. Navigation links should clear and organized. The text should to be large enough to be easily readable, with enough white space around the links to provide a sense of space and openness. There are no rules specifying the number of links that all navigation bars should contain. Every site is different.
If you're trying to determine how many links is appropriate for your website, begin by thinking about your goals. What do you want your site visitor to do when they land on your site? Make sure that your main navigation supports that goal. Also, consider what the user will most likely be looking for when they come to your website. This can also help you build a good menu.
BRIEF. Each individual link should be concise. About Us is better than About Our Company, Sale is better than Current Sale Ad.
CONSISTENT. This refers to both location and style. The navigation bar should be located in the exact same place on every page. Don't force the user to have to hunt around to find it. Link color, hover color and active page color should also be identical on every page.
We follow the rules because it is in our own interest to do so
It is not uncommon for new clients to say to us, "I want my site to be different. I don't want it to look or work like any other website out there." We generally do not support this approach.
Unless you are an experimental artist working in the digital world, your website is simply a means to an end. It is not the end in itself. Your business or organization's website allows you to expand your reach and provide information, but many people who visit your site will know nothing about you other than what they can glean from your website. What happens when it doesn't work the way they're expecting?
Whether your goal is to make a sale, establish a connection or persuade them to sign up for an appointment, the person visiting your website needs to feel comfortable and confident that they're making the right decision. If you try to be too alternative you are likely to turn them off.
People are not spending their valuable time surfing the web for the purpose of looking at websites. Most often they are looking for something specific. Breaking your audience's expectations for functionality is a bad idea. When they land on a site that doesn't follow commonly accepted rules, the result can only be frustration.
Then, why would anyone recommend removing the home link?
Some web designers assert: "Everyone knows you can simply click on the company logo in the upper left corner to go back to the homepage. A home link is unnecessary and redundant."
While most users are probably aware that the logo is usually a home link, certainly everyone doesn't. A person's age and experience with computers varies. Younger users who grew up with the internet aren't afraid to click anything to find their way back. Older users, who adopted the internet later, may or may not know that the logo is clickable. And in general, they are more afraid to click something that they aren't sure is meant to be clicked.
So, what about the people who don't realize that the logo is also a link back home? Where does that leave them? Do you want to frustrate, annoy and turn off anyone who comes to your website? For this reason we always include a home link on the navigation bar. People expect to see it.
Leaving off the home link saves valuable space.
It is true, we want to be brief and concise, but not at the expense of usability. Users in a hurry don't want to spend an extra second trying to figure out how your site works. The home link saves time and you don't risk upsetting visitors.
What are the accessibility implications of removing the home link?
When there is a home link in the main navigation, screen readers can easily jump to that element, regardless of the page that they are on. Remove that home link and when the screenreader finds the main navigation, the home link will not be there. This puts the user at a serious disadvantage and will negatively affect their experience.
Does your website need a home page link?
We believe it does. Being different for the sake of it is not better. Users come to a website looking for information. They don't want to be surprised by the way a site works.
The people recommending removing the home link seem to be more concerned with how a website looks than how it works. I've never heard a website user say, "Gosh, I wish they'd get rid of that home link."
Removing home from the main navigation but leaving it in the footer has also been suggested. Asking the user to scroll down to the bottom of the page to see whether or not they'll find a home button there isn't helpful either. We recommend always including the home link as part of the main navigation so people don't have to figure out how to get to the home page.
Learn more about our Website Design and Development Services. For more information call us at (518) 392-0846 or email [email protected].