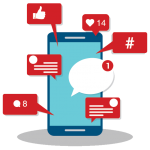 This article is written to help those who would like to promote their real estate business on social media, but don't know how to get started. In "Social Media Tips for Realtors" we begin by explaining the purpose of social media for business. Then we offer suggestions, specifically for realtors, regarding content to post. Finally, we explain how to slowly and avoid getting overwhelmed.
Social media is about being social
Social media, like many networking situations, allows us to meet new people, learn about their needs and background, and get to know existing acquaintances better. The purpose: to create and strengthen relationships.
There are several platforms to choose from: Facebook, Twitter, Instagram, Pinterest, YouTube, LinkedIn, Snapchat, etc. Whichever you choose, keep in mind that you are doing this to extend your reach, connect with potential clients, build trust, and promote your own reputation as an authority.
Which social media platform is right for you?
Choosing the right social media platform for your real estate business is similar to deciding where to advertise. The right answer requires thought and research. There is no single right answer.
Consider where you live. Some platforms are more popular in rural areas, while others are more popular in cities. Ask your customers which social media they use. You want to spend your time as efficiently and effectively as possible, so make sure you choose the one that fits you and your business best.
What are your competitors doing? What platforms are they on? How often do they post? Which posts get the most attention? See what they're doing right and wrong, and avoid their mistakes.
Avoid getting overwhelmed. Choose one social media platform and do a great job. You can always add another later, if you want to. But it's better to concentrate on one and build a following there than to spread yourself too thin.
Finally, if you don't know how a platform works, don't start using it for your business yet. For example, if you think Instagram would be a good fit for your business, open a personal account first. Watch and get acquainted. Begin to understand what is acceptable and not acceptable. Jumping in with both feet is bound to result in embarassaing errors. Don't be a bull in a china shop.
Content ideas for real estate companies on social media
Post about the area
People aren't only buying homes, they are also buying into neighborhoods, schools, and cultural and business environments. Show off the great things about the area where you have property for sale. This builds your authority and demonstrates your passion. It also educates potential home buyers about why they might want to make their new home in this area. Promote good stories about local schools and notable cultural and charity events.
Support your other marketing efforts by posting your listings
It takes just one person—the right person—to see your listing, and you've made a sale. The more ways you get your listings in front of people, the more likely you are to find that one perfect person.
Pictures, pictures, pictures
Whatever you do on social media, always include an appropriate photo.
Post about open houses and other events
Your followers have chosen to like your pages because they want you to stay in touch with them. They want you to do well and many of them will gladly share your posts with their friends. Now that's what I call free publicity.
Offer information for sellers and buyers
Provide information that potential buyers and sellers might be interested in. This can increase qualified traffic to your website. Post about staging and packing, renovating and unpacking. If you can't write the article yourself (which of course is the optimal way) then summarize and link to good articles in reputable publications.
Engage your audience
Ask questions to encourage a response. Keep it social!
Always include a hashtag
Hashtags help others find your posts. Here's a great article from the folks at Hubspot explaining How to Use Hashtags on Twitter, Facebook and Instagram.
Think before you post
Always keep in mind that your goal is to create and strengthen relationships, build trust and grow your reputation as an authority. Before posting any information on your social media, ask yourself, does this fulfill my goals? Does this information make sense for my brand? Will my potential clients be interested in this information? Social Media is forever, so be sure that you will be happy defending all posts in the future.
Abide by the 80/20 rule
An important thing to remember when it comes to social media and marketing of any kind: It's not about you. It's about your customer. The 80/20 Rule states that 80% of your social media posts should inform, educate, and entertain your audience, while only 20% should directly promote your business. This may sound counter-intuitive, but being informative and helpful builds trust. Being too "salesy" or promoting your properties too much can feel overly pushy.
If you're hesitant to get started because you find the idea daunting, take a step back
First, decide which platform you want to start using. Open a personal account and become familiar with how it works and what is expected.
Next, open a business account. Fill in as much information as the platform allows. Include all your contact information and link to your website. Add good quality, informative photos and write a thorough About statement.
Finally, determine for yourself a schedule you know you can stick to. Once a month, once a week, once a day. The point is to stick to it and be consistent.
Develop a system so that posting to social media is second nature
The final thing we'd like to say regarding social media tips for realtors is that efficiency is the key to following through in the long term. For example, each time you add a new property to your real estate website, make it part of the process to then post that same property to social media. Include a succinct property description and always link back to the listing on your website. Don't simply link to the homepage or the multi-listing page. Be sure to link directly to the property you are promoting. You may need to resize the photo to make it look perfect.
Need more help?
If you found this article "Social Media Tips for Realtors" to be useful, please comment below. Learn more about our Website Design and Development services. If you have any questions, please email [email protected] or phone (518) 392-0846.