Is Square the same as Squarespace?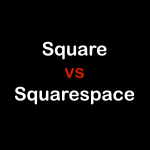 As web developers, we often work with people who, understandably, don't know a lot about how a website is built. Part of our job is to figure out what someone means when they don't have the knowledge or experience to use the right terminology.
We have had clients ask us to build their website using Square. We have also had clients ask us to use Squarespace to process credit card transactions. Neither of these requests makes sense.
Square and Squarespace are two companies that people often confuse with each other. However, they are very different, and in this article we'll explain the key differences between them.
Are Square and Squarespace the same thing? If not, how are they different?
At the simplest level, Square (also known as Squareup) is a point-of-sale application that allows merchants to process payments using a range of devices.
You've probably seen the little white credit card reader that attaches to a mobile phone. You may have also seen merchants using an iPad at their checkout instead of a traditional register. Both of these have become popular in shops and restaurants, and at farmers markets and other similar events.
The general term for this type of system is point of sale (POS) and what Square has done is dramatically simplify and reduce the cost of getting set up with a POS system.
Square also offers a platform for building online stores, but it has significant limitations. We don't consider it to be a good solution for anything but the most basic eCommerce.
Squarespace, on the other hand, is an all-in-one, general-purpose platform for building websites. It has pre-built templates and uses its own hosting. There is no support for third-party apps, plugins or extensions, and opportunities for SEO are limited.
A Squarespace website can include eCommerce, processing online transactions using Stripe, Square or PayPal as the payment processor. Stripe, Square and PayPal (among others) can also be used as the payment processor for a non-Squarespace website. This is probably a source of at least some of the confusion between Square and Squarespace. The fact is, Square and Squarespace are separate companies that just happen to share part of their name.
Do you have any additional questions about Square vs Squarespace?
This article is just a brief comparison between Square vs Squarespace. It is not meant to be a comprehensive explanation of either. If you have any additional questions about Square and Squarespace, please call us at (518) 392-0846 or email [email protected].
Finally, learn more about our website design and development services, as well as hosting and maintenance and search engine optimization. Visit our blog for more short informational articles about website design and development.